Last reply on Feb 7, 2012 by
Entoman
Paul wrote in another topic:
Yes, the Paraleps can come about the same time as the tricaudatus, but don't start as early I think. And I think they were a mid-morning deal where tricaudatus has more of an afternoon peak. (Here in the rockies we're not supoosed to don't have the early P adoptiva, although last spring I found a single youngish nymph that my key would only take it to adoptiva -by gills if I remember right. Wish I'd pickled it and had it properly ID'd.

Anyway, back east I found the Paraleps emerged from slower currents and siltier substrates -often along stream edges. Whereas tricaudatus spilled out of the riffles. They could mix of course in certain places, but one could find one predominant if you wanted to (and I did bc I wanted to know each better), by focusing on key habitat.

Fly patterns could be identical really, although I had my own, esp for the nymphs. In fact, I'm still using some P adoptiva mimic parachutes (more a dun gray) during Baetis activity.
I largely agree, though they seem to be more tolerant of current than most genera of leptophlebiids. I have sampled them from riffles. In my experience (with an admitted western bias), they are far more important in the Fall. If an angler is lucky enough to be in place (and aware of them) when they are schooled up in preparation for hatching, some memorable nymphing can take place! :)
P. adoptiva
is an eastern species. By far the most important species in the West is
P. debilis
, though they can be found mixed with others, particularly the unusual tusk bearing species
bicornuta
and in some locales
packii
. Anglers that occasionally come across these tuskers often confuse them with the immature burrowing ephemerids they resemble. Many anglers use their standard nymphs and do just fine with them. The PT is a popular pattern. Sometimes, a nymph that more accurately suggests their silhouette is the ticket. Because of their build and very obvious gills, they look more like a small long-tailed burrower than they do the typical baetid or ephemerellid, and it is good for the angler to keep this in mind.
Most duns and spinners are typically a rich brown, hence the name "Mahogany Dun." They can run the gamut from gray to almost black though, depending on the location. The slender bodies and coloration of the duns lead to them often being mistaken for baetids, but the oval vertically held hind wings and three tails make them easy to distinguish from that family. Check out this link to the hatch page for a look at the natural dun.
http://www.troutnut.com/hatch/752/Mayfly-Paraleptophlebia-debilis-Mahogany-Dun
Below are a couple of patterns I find very useful when this critter is about.
Mahogany Dun Nymph #16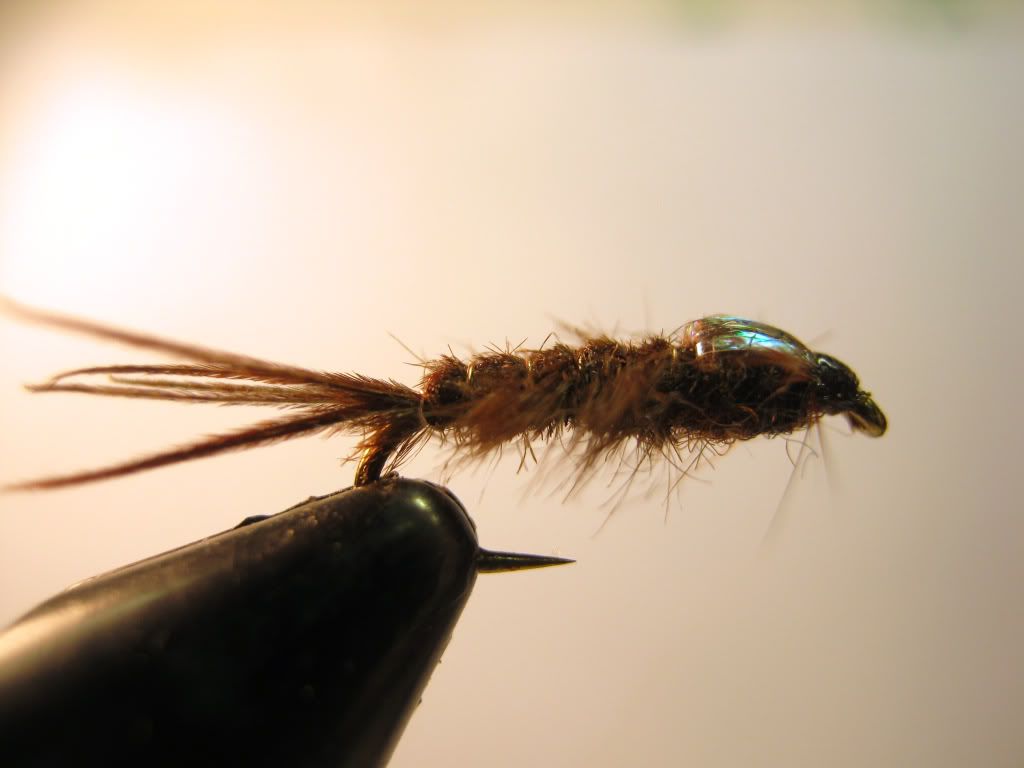 Mahogany Paradun #16